For 17 years, El Camino College Business Training Center instructor Desiree Saddler has been providing HR consulting, executive coaching, and training and development in the areas of leadership, communication, soft skills, emotional intelligence and conflict resolution. She has been an instructor and facilitator for the Business Training Center since 2006.
One of her most-requested classes is Frontline Leadership Training, which comprises an array of content components including communication, team building, problem-solving, coaching skills and motivational skills. Saddler customizes the course to fit the culture and environment of the businesses to which she is providing the training.
Eldon Davidson, director of the Center for Customized Training at El Camino College, said, "Desiree brings incredible industry experience to our aerospace and manufacturing clients. Instructors like her are the bedrock of our success as a training and workplace education services provider. Her vast industry experience enables her to give students a real-world perspective on some of the most pressing issues that our employers face."
The Business Training Center at El Camino College is pleased to present the following Q&A discussion with Desiree Saddler.
Q: What training topics are businesses demanding that reflect the most pressing issues they are facing?
Desiree Saddler: Many companies in our region are struggling with the transition of employees who are returning to the office post-COVID. These employees have many concerns related to issues such as what types of health precautions will be in place once they return to the office? Will I be allowed to work a hybrid schedule? Has my reporting structure changed?
Q: Is the transition of employees back to the office causing a disruption of company culture?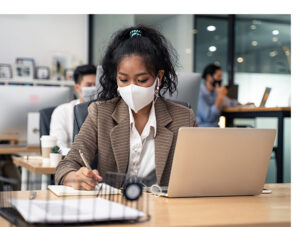 Saddler: It is not only disrupting the culture, but in many cases it's redefining it. Some employees feel that during the back-to-office transition the company has changed to the degree that they are asking themselves, "Do I still want to work here?"
In some cases, companies are making hard and fast decisions that their employees are not in agreement with, which is causing turnover. I've seen cases where this turnover has resulted in people getting promoted who weren't ready and were not given proper training for their new role.
Q: What other types of training are in demand right now?
Saddler: I'm also seeing an increased request for leadership training in the area of emotional intelligence (EI), which is defined as the ability to perceive, assess and manage the emotions of oneself, of others and of groups. Training in EI creates a foundation for improving teamwork, decision-making/problem-solving and communication. EI is a critical skill in organizations where generational differences within workgroups are causing tensions and communications problems.
Diversity, equity and inclusion (DEI) training is also on the upswing because leaders are increasingly aware that when they support and promote DEI in the workplace, they are simultaneously creating brand value that reflects the values of the community, employees, potential hires and customers. They are also aware of the extensive research that shows companies with solid DEI cultures are twice more likely to meet or exceed financial targets than companies without.
Q: Why is it important for businesses to provide employees with the opportunity to enhance their skills?
Saddler: Employees who receive training that enhances their skills are more productive and engaged at work. And when employees are engaged, they demonstrate an emotional commitment to the organization. It's about managers who don't work just for a paycheck or the next perk. It is about all levels of employees who work on behalf of the organization's goals and vision. It's about the employees who are motivated to give 150 percent.
At organizations where there is a high level of disengaged employees, there is typically higher turnover, more accidents, more absenteeism and poor customer service. When I'm meeting with the HR person or the CEO or the director of a department, I ask, "Do you want people who are just showing up, going through the motions, or do you want to invest in your workers so they can perform at their highest capacity?" Employees want to feel like they are part of the big picture. They want to know what they do matters.
###
For more information about the customized training programs provided by El Camino College, please contact:
Eldon R. Davidson
Director, Center for Customized Training
El Camino College – Business Training Center
13430 Hawthorne Blvd.
Hawthorne, CA 90250
Email: [email protected]